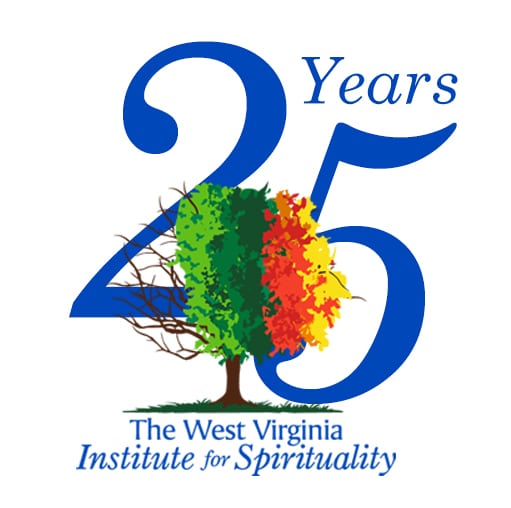 You are invited to celebrate with us as The West Virginia Institute for Spirituality prepares to mark its 25th year as a place where individuals can come and experience deepening mindfulness and inner peace. 
During these past 25 years, WVIS has maintained its commitment to the formation of competent spiritual directors. Throughout its history, WVIS has trained both lay ministers and clergy representing faith traditions including Presbyterian, Episcopalian, Roman Catholic, Unitarian, and Baptist.
Beginning December 28th, 2023, WVIS will begin a year-long celebration of the people that were, and continue to be, instrumental in serving WVIS and the individuals God calls us to serve. Please go ahead and mark your calendar for these events most of which will be offered via Zoom to allow for greater participation. More information will be provided as we draw closer to each of these dates. Please note that all times are Eastern time unless otherwise specified.
December 28, 2023: 25th Anniversary Kick-off Celebration via Zoom (7:00 – 8:00 pm). This celebration will include photos and stories from the last 25 years.
April 13, 2024: Come to the WVIS Retreat House in Charleston, West Virginia to be part of a re-dedication of the house that includes an ecumenical prayer service (2:00 – 4:00 pm).
May 2024: The May issue of the WVIS Newsletter which will be dedicated to the 25th Anniversary Celebration. Information on submitting stories will be sent via MailChimp early in 2024, watch your email.
September 26, 2024: Prayer service on the feast day of Saint Marie Victoire Therese Couderc for whom the house is named. This prayer service will be offered via Zoom (7:00 – 8:00 pm).
November 2, 2024: All Souls and Our Saints Prayer Service to honor those who have played an important role in the history of WVIS and have passed. This prayer service will be offered via Zoom (7:00 – 8:00 pm).
December 31, 2024: New Year's Eve Prayer Service to celebrate and close out the Anniversary Year (Time TBD).
PLUS…watch for news items and stories throughout the year on the WVIS website on the Home page and the About page under "WVIS In the News…"
.