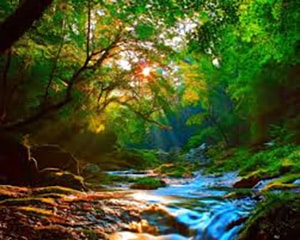 September 1st marked the World Day of Prayer for the Care of Creation…
Pope Francis first instituted the September 1st World Day of Prayer for the Care of Creation in 2015, serving as a way to encourage the faithful around the world to pray for our common home. The annual day also marks the beginning of an ecumenical outreach bringing Christians to pray and work together in what is called the Season of Creation which lasts till 4 October, the feast of St. Francis of Assisi.
Music to celebrate the day…
Summer, wrote Gerard Manley Hopkins, is "barbarous in beauty." Inspired by similar feelings, Beethoven wrote his sixth symphony, the "Pastoral," which describes a summer day spent in the country. The loveliness of this music is as familiar as that of a summer day and no less worth stopping to take time to contemplate.
Beethoven loved nature and often walked in the countryside, stopping to write down ideas on the sheets of music paper he kept folded in his pocket. "How glad I am to be able to roam in wood and thicket, among the trees and flowers and rocks. No one can love the country as I do. My bad hearing does not trouble me here. In the country every tree seems to speak to me, saying, 'Holy! Holy!' In the woods there is enchantment which expresses all things!" To Therese, his "immortal beloved," he wrote, "Do not forests, trees, rocks re-echo that for which humankind longs?"
Listen to Beethoven's Symphony No. 6, 'Pastoral' – mvmt. 5 – performed by the Chicago Symphony Orchestra, Georg Solti, conductor, which may be accessed using this link: https://youtu.be/Vlfe-m9U6WY
.