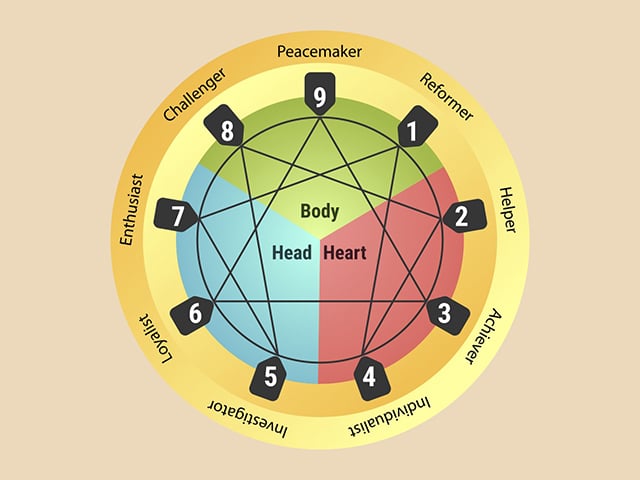 Are you curious about the Enneagram?
The Enneagram is a sophisticated and powerful system for self-understanding, personal development, and spiritual transformation. This conference takes you into the depths of the Enneagram for your own personal transformation.
While this conference does not assume that you have a detailed understanding of the Enneagram, it is important to have a basic awareness of the Nine Types as this conference goes beyond a description of the Nine Types. It is an entrance into the deeper dynamics of how we understand the self, our worldview, and our experiences. For those who work with others in a spiritual direction, counseling, client, patient, or other relationship, the dynamics covered will be beneficial for gaining a greater understanding of those with whom you work.
The expectation of this conference is twofold.  First, we experience a new level of community and compassion as we grasp our Essence. Second, we recognize new freedom around exposing old patterns of behaviors and thoughts to our journey with Essence. At the conclusion of the program participants will: 
Identify their enneagram type, their pattern of attention, and how their type limits and benefits them
Identify those practices and skills that further their personal, relational, and spiritual development
Heighten their acceptance of themselves and others through understanding how each of us operates
Understand and utilize personal reactions for reducing stress and improving self-management and effectiveness
Learn about and understand a personality typology and its applications in healthy development, relationships, and ministry to clients
Prior to attending, it is advised that all participants read two books: 1) The Essential Enneagram by Daniels and Price, and 2) The Road Back to You by Cron and Stabile. Additionally, if you are unfamiliar with the Enneagram, it would be helpful for you to determine your enneagram type prior to this workshop. You can take the RHETI test at https://tests.enneagraminstitute.com/
For those needing CEU credits, visit the Program page on the website for that information. For questions, email Sister Carole Riley, CDP, Ph.D. at wviscr@aol.com.